Have questions or need advice? We can help!
It is Allan Block Training Season!


White Block Company along with Allan Block Corporation will be conducting a Virtual Allan Block Contractor Certification Class on Thursday, March 18, 2021.
Due to the Covid 19 Pandemic and the the guidelines set forth by the State of Washington, this is a great option for those that want to learn the proper installation techniques and principles of the Allan Block Wall Systems.
The class will be presented online by the Allan Block Engineering Department and White Block Company, Inc. The "Hands On" training for the class can be scheduled with White Block Co. or be held at your Allan Block jobsite. Details will be discussed during the class.
This class is presented at NO CHARGE to you, and registration has begun.
We do need to get an Allan Block Contractor binder in your hands before the day of the class, so please register early!
For the sign up link and more information on the class - click here
---
Our sincere congratulations go out to Tom Young, the Director of the Northwest Concrete Masonry Association, on his recent induction to the National Concrete Masonry Association's Hall of Fame.

Tom has been instrumental to the growth and use of Concrete Masonry in the Northwest, as well as participating on national committees promoting the many benefits of concrete masonry.
Tom has been an excellent resource of knowledge for our industry, and he has the respect of many architects, engineers and block producers throughout the northwest. To learn more about Tom's accomplishments, follow this link to the NCMA's website Thomas Young inducted into NCMA's Hall of Fame - NCMA
---
If you are planning any retaining wall, paver patio, or outdoor kitchen projects, be sure to check out what products we offer!
We manufacture concrete pavers and stepping stone, and our Allan Block Wall Systems offer a complete line of retaining walls and courtyard wall products.
Call or come in and we can help with material estimates and price out your next project for you!
---
Quikrete Concrete Countertop Mix

Quickrete® Concrete Countertop Mix is a specially formulated high-strength, flow-able concrete mix for pre-cast and cast-in-place concrete countertop applications.
It contains a super-plasticizer additive that provides a flow-able mix at low water/cement ratio. The high-flow formula minimizes the need for mechanical vibration. It has a reduced shrinkage formulation and has a 28 Day Compressive Strength of 6,000 PSI.
Concrete Countertops are durable, economical and can be created to fit almost any style. Concrete gives you design flexibility by adding colors, and specialty aggregates that can be exposed for a completely different look.
For more product information - click here.
---
We are now stocking the Wall Drain Pro. It is a simplier, easier to install, way to create drainage at the face of the retaining wall.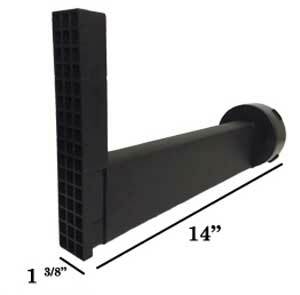 It reduces labor costs by minimizing or eliminating cutting the block. It is designed for wall blocks up to 8" tall, but can be easily modified to work with any size block. The male end snaps into place with 4" drain tile & fittings. This patented system was developed by a hardscape contractor.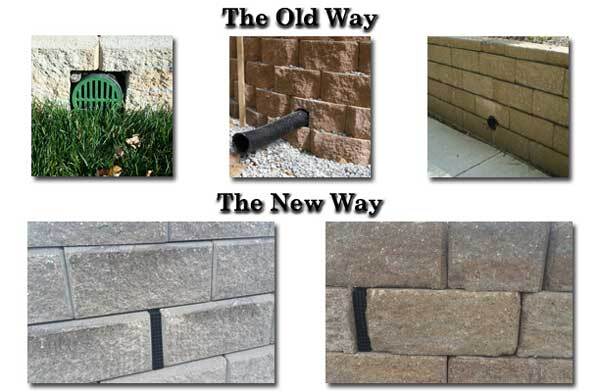 ---
We now stock a full line of Flue Sizes from Superior Clay Products. They Flue Tiles range from 8x8 on up to a 16x16. We also carry a 6" and 8" Clay Thimble that are used with our Chimney Block and Flue Liner.
The 8x12 Rectangle Shaped Flue Liners are the ones you need to repair your old fireplace & chimney.