NEW FREE-STANDING BLOCKS EASILY CREATE THE LOOK OF TRADITIONAL STONE WALLS
Have questions or need advice? We can help!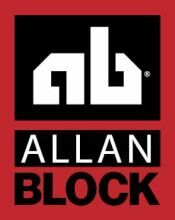 Allan Block has expanded their line of landscape and retaining wall blocks to include the AB Courtyard Collection. This new, free-standing wall system allows landscapers and do-it-yourself homeowners to easily create beautiful and durable stone-like structures. Unlike Allan Blocks other wall systems, which are designed for retaining soil, the AB Courtyard Collection is designed for above ground vertical walls and decorative landscape structures. The patented blocks manufactured with high-strength concrete combine the beauty of traditional stone walls with the strength of todays innovative concrete products.
Simpler and Easier Than Hand-Laid Stone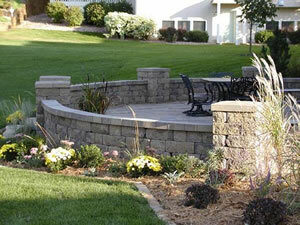 The AB Courtyard Collection answers the need for a landscape product that resembles natural stone but doesn't require the expertise or expense of a stonemason. Tim Bott, Allan Block Vice President states, We designed the The AB Courtyard Collection for both landscape contractors and the do-it-yourself homeowner. The result is a simple system that is versatile and easy to install. Tim Heelan, owner of StonePocket Landscaping adds, its amazing what you can create with the AB Courtyard Collection. Ive worked with other natural stone and block products and you cant beat the flexibility and aesthetics of the AB Courtyard Collection.
Design Versatility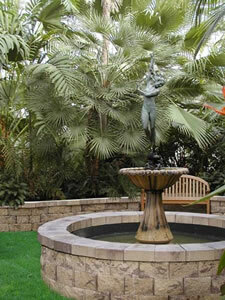 The AB Courtyard Collection is a versatile, flexible system for creating both residential and commercial hardscapes. The system incorporates critical design elements color, line, form, texture and scale. The AB Courtyard Collection uses these elements to create landscape features like patio enclosures, seating walls, fountains, planters, light posts and other decorative landscape accents. With the patented five-block system you can build posts and panels. The panels are flexible enough to incorporate curves, corners, step-downs, lighting and much more. The AB Courtyard Collection easily integrates with the other Allan Block wall systems to create complete hardscape environments.
Simple Construction
Building with the AB Courtyard Collection is easy. No footings are required and the interlocking blocks fit together without mortar or pins. Individual blocks weigh between 20 to 40 pounds each, so they are easy to handle and stack up quickly.
For great ideas and how to information for do it yourself projects stop in at White Block Company or visit Allan Block Courtyard Weekend Projects.